Meet the founder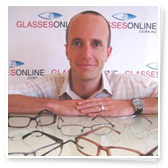 Thanks for visiting us at GlassesOnline. I couldn't understand why glasses were so expensive and discovered that it was because the industry adds huge profit margins. This led me to think that glasses could be made for significantly less. So I started the company to provide high quality glasses at a fraction of the shop prices. And thanks to our customers, we're continually growing and spreading the word around Australia.
We want to change the way people feel about buying glasses. To have the peace of mind that you can always have the best eyesight possible by updating or replacing your glasses when you need to. Previously, due to the cost, people have been naturally reluctant to replace their glasses, even if their prescription had changed.
Buying glasses is also a personal experience and so we place a huge emphasis on giving the best service possible to our customers. We see it as an ongoing, low pressure relationship.
We are here to make sure you have a great experience and receive a perfect pair of glasses, so if we can help in any way, please do not hesitate to get in touch.
Best wishes,



Kevin Reece

Return to Our Story